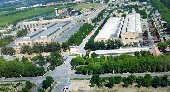 Tianjin ALSTOM Hydro Co. Ltd is a joint venture established by ALSTOM SA and Tianjin Power Equipment Manufactory (TPEM), specialized in manufacturing various types of turbine-generator units, and it is the first joint venture in hydropower equipment industry ratified by State Planning Committee, the Ministry of Foreign Trade & Economic Cooperation and the Ministry of Mechanical Industry. Year 2004 with the further capital injection from ALSTOM, the registered capital of the company increased to 54.189 million US dollars and ALSTOM owns 99% share.
Since its creation, TAH completed technical rehabilitation of its facilities, renovated the coil workshop to have it closed-up protected and purified , ordered some heavy-duty lathes including a 16m numerical-control vertical lathe, imported a computerized stator bar press & 5 axis CNC milling/boring machine, Asquith CNN and INNSE 13m vertical lathe to improve its production capacities and capabilities. Now with a 105,000 sqm plant , a staff force of over 1400, TAH has developed into a world class manufacturing facility equipped with the latest CNC technology. it today, is fully able and all the necessary skills to take project of all type( Francis, Kaplan, Bulb, Pelton, Pumped-storage ) project and size up to 900 MW.
For enhancing strength of China Hydro business, ALSTOM power France Company had decided to reorganize Alstom (Tianjin) Energy System Co. Ltd.(ATES) from Stream segment to Hydro segment in 09-01-2001. As "PLANT & SYSTEMS DIVISION" of Tianjin Alstom Hydro Co. Ltd.(TAH), this team is dedicated to the supply ALSPA P320 Computerized Control & Supervising System for China Hydro Power project. Up to now, Tianjin Alstom Hydro(TAH) has been the powerful all-around supplier in China Hydro power field. (Turbine, Generator, Governor, Excitation, Auxiliary and Computerized Control & Supervising System).