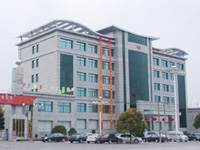 LiMing Electronic Co.,Ltd. is situated neighboring Yangzhou on the east and Nanjing on the south, with the Beijing-Shanghai Expressway through, thus enjoying quite a convenient transportation.
LiMing occupies more than 5,000 square meters and has a competent group of senior technologists and highly-qualified managerial personnels. Well equipped such as with full automatic level roller-machines, automatic vacuum filling-sealing machines, advanced international production lines and ageing testers, LiMing provides flyback transformers (FBT) for CTV and B/W TV, deflection yokes (DY), remote control equipment (RCE), tuners . The annual output has reached 2,000,000 pcs in FBT, 1,500,000 in RCE, 1,200,000 in DY and 600,000 in TUNER. Having been certificated CCEE and ISO9002, LiMing has got power to engage in foreign trade and exports products to countries and regions in Southeast Asia, Europe and America.

With lofty devotion of our efforts to providing excellent quality products and complete services, LiMing people are sincerely ready for your visit or enquiry.