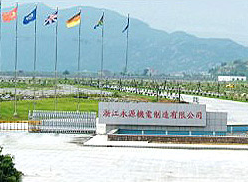 Zhe Jiang Jonway Machinery & Electrical Manufacture Co.,Ltd. is one of core members of Jonway Group. Since day one after its establishment, the company has spared no efforts in developing new products and optimizing them. A comprehensive and consistent quality system has been since long established, from design to production, form marketing to after sale services. We have been successfully granted ISO9001 and other certifications as a result of the introduction of the quality management, the down-to-earth implementation of quality principles and the employees' quality mindedness. The company attaches great importance to employee training. It pays off when the quality of each and every one of our employees keeps improving.
The belief in "Eternity Comes From Quality" is fully reflected throughout our design, manufacturing and services. Negligence and laziness is our enemy. The advanced technologies of design and manufacturing were adopted from Germany. We take pride in the CAD/CAM mould tooling center and the testing center. Our products are applied in wide range of industries such as chemical fiber, medicine, food, packing, manufacturing, construction, environment protection and households. We enjoy an excellent reputation in Europe, America, Australia, Middle East, Southeast Asia as well as in China.
"Satisfactory products plus satisfactory services "makes our success happen. We treasure this guideline that makes customers confident in us. We provide for our customers technical consultancy, on-site maintenance and spare parts.
We sincerely hope to have and also thank for valuable supports and cooperation from all friends in the world.