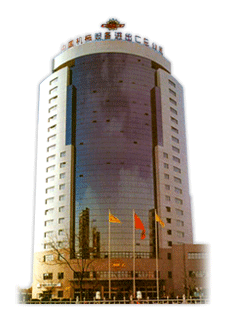 --
cEstablished in 1978 as the first national corporation integrating foreign trade with industry,China National Machinery Group Corporation (CMEC) deals principally in contracting international engineering projects,exporting complete plants and equipment,importing and exporting mechanical and electrical products and engaging in external economic and techniacal cooperation.

  CMEC has built up business relationship with more than 120 countries and regions around the world,forming both a global network of information,distribution and services and a pattern of diversified marketing across the five continents.Protected by laws,the insignia of CMEC and trademarks of the products related have been registered in a great number of countries and regions,enjoying a world-renowned reputation.
  Possessing a prominent edge in the construction of international engineering projects,exportation of complete plants and equipment and importation and exportation of mechanical and electrical products,CMEC takes the lead in China particularly in contracting international power stations and a wide variety of large engineering projects.
  Since the 1980s of 20 th century,CMEC has achieved a number of significant firsts throughout the country in such businesses an exporting China's first set of 210 MW thermal power plant by means of the export seller's cedit in the 1980s,exporting units of coal/gas-fired turbine power station and single unit of 320 MW thermal power plant in the 1990s,winning an international tender for the construction of four units of 30 MW hydro-power stations in Africa,designing, exporting and installing float glass factories with a respective melting capacity of 300 and 500 tons per day,installation and expansion of digital telephoe exchang in various district headquarters of Bangladesh in the 21 th century,exporting remote-contrlooed electric meters to Italy and winning a tender for undertaking the project of a national broadcast and television center in Cabon,opening up a new marketplace in Africa for export of China's complete sets of broadcast and television facilities.
  CMEC has exported complete plants and equipment to over 60 countries and regions involving projects in such diverse fields as energy,electrical engineering,heavy duty mining equipment,
  General machinery,light industry, building materials,broadcast and television,ect.
  In domestic construction industry,our compang keeping ahead of the whole industry.There are Three projects win the national high quality project prize, andtwelve projects win the best quality Luban prize in Chinese construction industry (national level).There are also awarded the contracted top grade by the national constructiondepartment (only a few company obtain the credit).Our company is awarded the aid foreign complete set project construction B level implementation enterprise qualifications by the department of commercial affairs.
  With 22 wholly-owned and holding subsidiary companies in China,10 wholly-owned and holding companies and 13 representative offices based in other countries of the world as well as the Hongkong Special Administrative Region,CMEC has grown and developed into a comprehensive enterprise group linked up with property ownerships,pillared by foreign trade and integrated as one entity with trade,industry,science and technology and services.