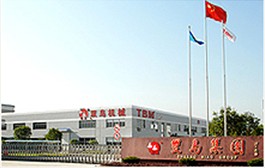 Two birds machinery is a professional engaged in design, manufacturing chain electric hoist, NRK hyacinth, Shouban gourd and a variety of high strength hanging rack group company, it includes two Shanghai bird Machinery Company Limited, Zhejiang Shengzhou Industrial Park and Zhejiang double double bird bird machinery limited company, is China 's largest private lifting enterprise.
The company by virtue of first-rate technical team and the world's most advanced German chain of production lines, causing the Japanese manufacturing technology, has been successful in 1999through the ISO9002 quality system certification and the subsequent EC product" CE"
Safety certification, at the same time, two birds machinery or China in the same industry first won the German" GS" certification of lifting enterprise.
As innovative product design, excellent quality, the company produced " SM"," double bird" brand crane series products have been exported to Europe, the United States, Australia and Southeast Asia nearly 50 countries and regions, and won wide acclaim from domestic and foreign users.
Two birds machinery in the spirit of " survive by quality, all for customer service" purposes, wholeheartedly welcome Chinese and foreign guests to visit us!