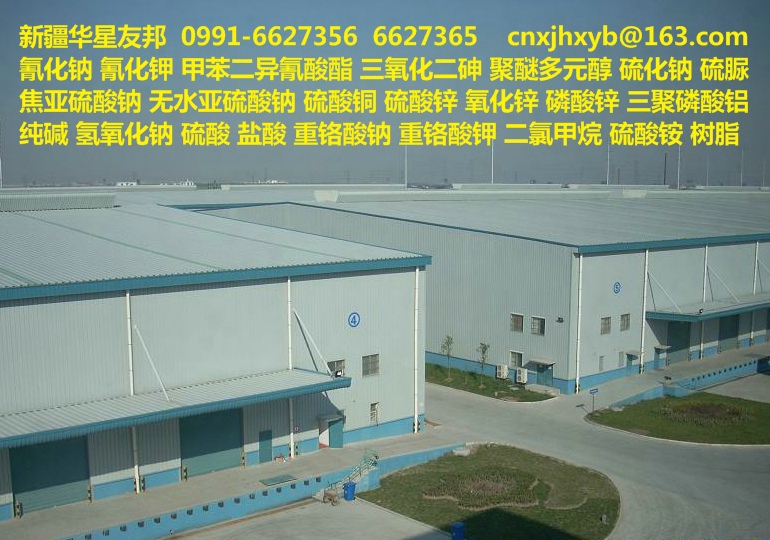 Xinjiang Huaxing Youbang Trading Co., Ltd is a company specializing in domestic and international trade business,
The main sales Sodium cyanide, Potassium cyanide, Toluene-2,4-diisocyanate, Arsenic trioxide, polyether polyol, Methylene Chloride, Sodium Sulphide, DL-Methionine, Thiourea, Sodium metabisulfite, Anhydrous Sodium Sulfite, Ammonium sulfate, Cupric sulfate, Zinc sulfate, Zinc oxide, Zinc phosphate, Aluminum Tripolyphosphate, Sodium Dichromate, Potassium dichromate, Causiu Soda flakes, Sodium Carbonate, Sulphuric acid, Hydrochloric acid,Resin-specific adsorption of gold, Coconut shell activated carbon, Wearable steel ball, Flexible freight container, Intermediate Bulk Containers, ISO Container, Glass Flake Series of non-ferrous metal smelting, sponge manufacturing, coatings, paints and feed industry for chemical raw materials.
The company always upholds the business philosophy of "honesty, equality and mutual benefit, win-win cooperation, and return to the society", promotes the enterprise spirit of "integrity, unity, dedication and innovation", gives full play to regional advantages of Xinjiang and its own advantages, uses specialized services such as financing, customs application, storage, transportation and quality control, etc, providing comprehensive value-added services to the majority of buyers and manufacturers.
Based on integrity and win-win concept, the company has established solid business relationship with dozens of buyers in Xinjiang and the five Central Asian countries. By using the industrial and trade cooperation relationship with near one hundred well-known manufacturers in China, it has established unique competitive advantages of the enterprise specializing in domestic and international trade. It has launched many products into the market of Xinjiang and five Central Asian countries through the sales network; by taking advantage of product diversification, series and supporting, meeting the needs of different markets and customers. The company strives to become the most satisfied supplier to buyers, the most ideal distributor and agent to manufacturers. It will continue to enhance the overall operational capacity of domestic and international markets, targeting at creating regional comprehensive enterprise; it would like to share the development fruits and create a better future with friends from all walks of life!