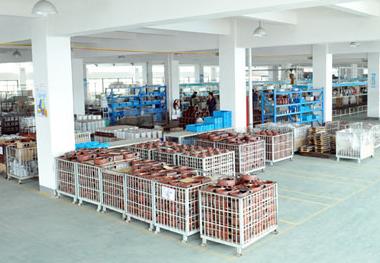 Established in 1983, Commins is a high-tech enterprise specializing in developing, manufacturing and servicing electric motors, transmission equipment and control systems. Currently there are more than 300 employees. The factory houses a 32,000 square meters workshop. The yearly production output of reducers and motors is more than 400,000sets, which are widely used in agriculture irrigation systems, mechanical parking systems, escalator drive systems, construction lift systems etc.

Commins invests time and effort into technological innovation. Since the company was founded, three research centers have been built. They are responsible for the research and development related to electric motors, transmission systems, and control systems. We also cooperate with internationally well-known enterprises and trade organizations, focusing on innovation, improving product performance. These relationships help us insure that the technology which goes into our products always stands at the forefront of industry. Our LFNG/LSNG special reducer and motor for irrigation systems, our LRCK special motor and reducer for mechanical parking systems and our LSJS special motor and reducer etc. are all industry leaders. Even our domestic products in related fields were sold to Europe and America. The company is developing tracker for solar power system and motor & reducer assembly battery car.

The company pays high attention to the quality of its products. We have advanced product testing systems and a first rate quality control team. Making use of China's leading gear processing and comprehensive detection equipment, chassis processing equipment and CMM, we have some of the most advanced reducer and motor assembly lines. Our professional quality control team checks every process, every part with rigorous testing and control, to ensure the quality of product. The company has passed ISO9001-2000. The electric motor series has passed and conforms to UL, CSA, CE, CCC, and TX standards and is in compliance with the relevant product quality authentication, energy savings and emission reduction requirements.

The company also pays close attention to production management, using ERP management software to quickly and accurately meet customer requirements. We are committed to creating a corporate culture with a focus on continuing education, encouraging employee training which through some foreign as well as Chinese training agencies, we have created a top-notch management team and professional staff.

Leading production technology, reliable product quality, competitive business strategy, and complete open service give us obvious advantages and benefits when it comes to the fast growing Chinese market. At the same time, we are also achieving more and more from our growth in overseas markets.

The company throughout persisted the business philosophy "the customer demand first, scientific and technological innovation, pay great attention to talents, continuously improving, common development". With all old and new customers, we will develop and innovate, continuously improve in agricultural irrigation systems, mechanical parking systems, escalator and elevator systems, construction mechanical equipment, Solar power generation system, electric cars etc. and our future looks very promising. We will gain more success and turn China's national industry into a world famous brand.