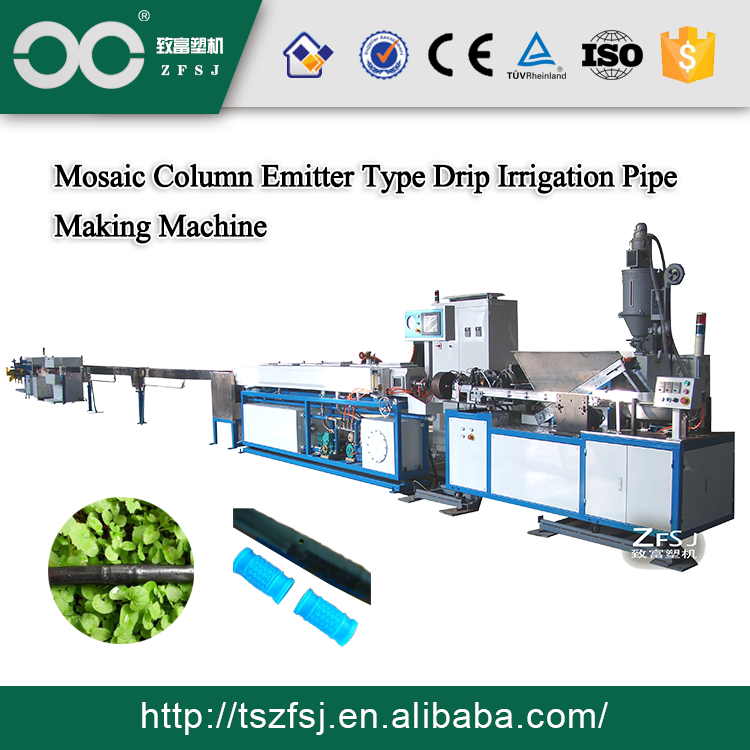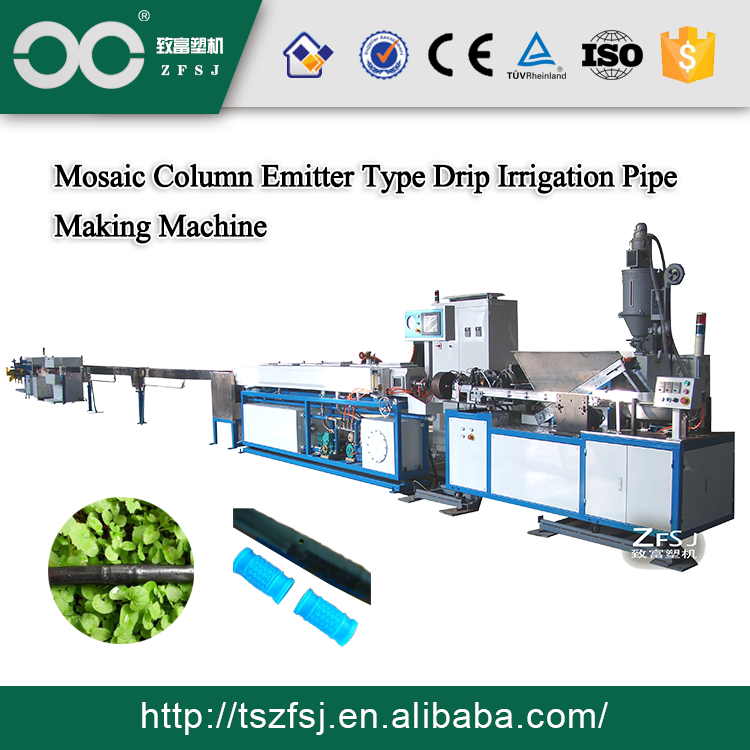 Mosaic Column Emitter Type Drip Irrigation Pipe Making Machine
Individual(Sole proprietorship)
Chinese Supplier

CCCME Member
Product Details
Company Profile
One. Application:
This production line is used to make mosaic column emitter type drip irrigation pipe. The mosaic column emitter type drip irrigation pipe is widely used in water-saving irrigation fields such as greenhouse, farmland planting and greening item, etc.
Two. Mosaic column emitter type drip irrigation pipe characteristics:
1) The distance between emitters can be adjusted according to demands of different crops. It can be adjusted to same distance as well as regular pattern of Long- Short- Long.
2) The emitter adopts unique design of circular arc flow path and has the characteristics of complete turbulent fluid, automatic washing and strong antiblocking capability.
3) The paving length is long and can reach 100 meters.
4) The mosaic column emitter type drip irrigation pipe can be used in plains as well in hills and slopping fields.
5) One emitter has two outlets, which antiblocking capability is strong.
6) The pipe wall thickness can reach 1.2 millimeter and has long service life.
Three. Production line characteristics:
1) It adopts computer system control and touch screen operation, having the characteristics of stable production process, easy operation and high efficient and energy saving.
2) Emitter feeding, choosing and ordering, transferring and inserting, pipe extruding, hole drilling and rolling can be finished synchronously, which has high automation degree.
3) The screw bolt of extruder and barrel are made of top-quality 38CrMoAlA nitriding steel, which surface hardness can reach HV850-1000 after processing by ionitriding. The screw bolt adopts optional design with mixing head in same distance and different depth, the extruded materials are plasticized evenly and pipe surface is smooth.
4) The extruding mold and forming and cooling device are made from special material, having the characteristics of unique structure and stable fixed diameter.
5) The tractor adopts frequency-variable control and can fit for the speed demands of different technological skill. It adjusts the pressure force of caterpillar band automatically by up and down air cylinder, the surface of caterpillar band has rubber protective layer which prevents drip irrigation pipe from clamping and distorting by tractor effectively.
6) The hole-driller adopts mechanical method drilling and is equipped with residue recycling system. It has the characteristics of high-speed hole drilling, no residue left and stable operation.
7) The line adopts double-station rolling machine, so it has the functions of changing roll without stopping machine. Wiring space, rolling tension and rolling length can be adjusted according to actual needs。
No.

Item

Technical parameter

No.

Item

Technical parameter

SJNX-70-YZ

SJNX-90-YZ

SJNX-70-YZ

SJNX-90-YZ

1

Specification of final product

φ16mm

φ16mm

10

Emitter supplying speed

≤180 pcs /min

≤180 pcs /min

2

Wall thickness of final product

0.5-1.2 mm

0.5-1.2 mm

11

Tractor driving power

2.2 kW

2.2 kW

3

Dripper distance

≥200 mm

≥200 mm

12

Hole drilling way

Mechanical

Mechanical

4

Production speed

20-40 m/min

30-50 m/min

13

Hole drilling speed

≤180 pcs/min

≤180 pcs/min

5

Main driving power

45kW

55kW

14

Winding motor

frequency conversion 2KW×2

frequency conversion 2KW×2

6

Max. extruding capacity

120 kg/h

158kg/h

15

Water consumption

3 m3/h

3 m3/h

7

Heating power

30kW

38kW

16

Air consumption

2 m3/min

2 m3/min

8

Filter changing way

Durable filter(patent)

Durable filter(patent)

17

Installation power

100 kW

120 kW

9

Total dripper supply power

4.06 kW

4.06 kW

18

Overall dimension

(L×W×H)

31 m×4.5 m×3 m

31 m×5 m×3 m
Send your message to this member