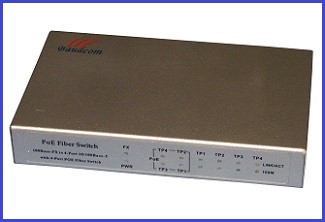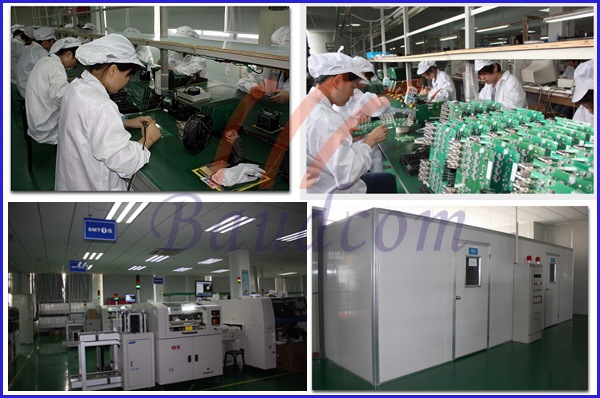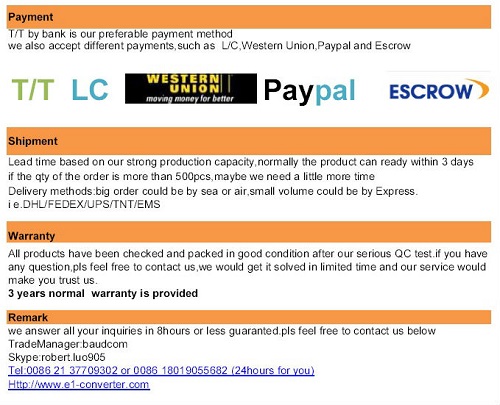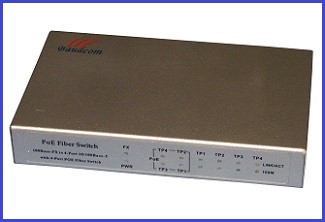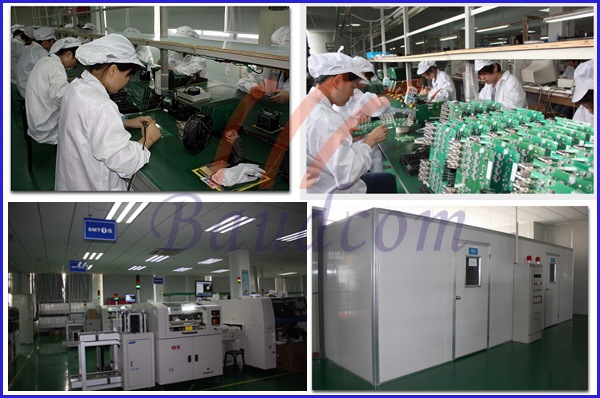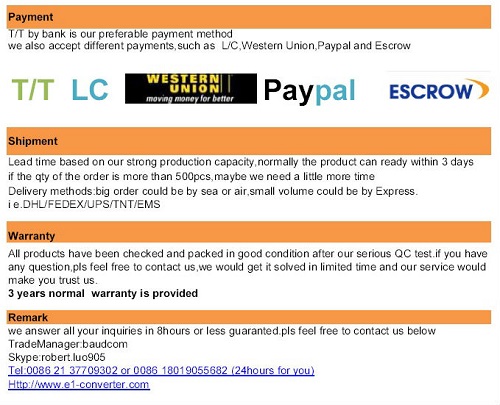 5*10/100/1000M POE(PSE) Fiber Ethernet Switch
Individual(Sole proprietorship)
Chinese Supplier

Free Member
Product Details
Company Profile
INFORMATION
Overview
BD-1000M-4TX-POE series is a 5 port (1FX+4TP) 10/100/1000M PoE (PSE) Ethernet Switch. The optical fiber port can greatly extend the transmission distance limitation of normal CAT5e UTP cable. All the four 10/100/1000Mbps UTP RJ-45 ports supports full duplex 10/100/1000M connectivity (half duplex only supported in 10/100M mode).
Complied with IEEE802.3at and IEEE802.3af standard, the PoE(PSE) Ethernet Switch is a Power Sourcing Equipment (PSE) which combines data transfered over cable with 48V (typical) power supply, providing power to IEEE802.3at /IEEE802.3af powered device (PD) over CAT5e UTP cable (cable length up to 100meters / 330feets). All the four UTP RJ-45 ports are organized to be PoE output port and each PoE port can output up to 60Watts (DC48V/1.2A) power into CAT5e twisted-pair cable.
Features
2 Support one 1000Base-FX fiber optical port and four 10/100/1000Base-T UTP RJ-45 ports
2 4 ports IEEE802.3at / IEEE802.3af PoE/PSE output
2 (high power output up to 60Watts per port)
2 Support IEEE 802.3z/AB 10/1001000Base-
2 1000Base-SX/LX/ZX standards
2 Supports IEEE 802.3x flow control
2 Supports 9216 bytes jumbo packet length
2 Built-in 1Mbits SRAM for packet buffer, with
2 4K-entry lookup table
1000Base-FX Optical Ethernet interface:
Connector: SC,FC or ST are optional
Wavelength: 1310nm,1550nm or 850nm(can be chosen by customer)
Optical fiber category:
Ø single-mode 8.3/125, 8.7/125, 9/125, 10/125um
Ø multi-mode 50/125, 62.5/125, 100/140um
multi- mode connection: transmitting range can reach 5 kilometers as farthest;
single-mode connection: transmitting range can reach 100 kilometers.
10/100/1000Base-TX Ethernet Interface:
Connector: UTP RJ45 connector
Data Rates:
10/100/1000Mbps(802.3 10Base-T/802.3u 100Base-T)
100Mbps (100Base-FX)
Power over Ethernet Output:
Pin Assignment and Polarity:4/5 (V+),7/8 (V-)
Output Power: please refer to ordering information
Efficiency: 75% min
Short circuit protection: auto recovery

Over current protection: auto recovery
Optical Specification :
| | | | | |
| --- | --- | --- | --- | --- |
| Fiber connector | SC/ST | SC | SC | SC |
| type | multimode | Single mode | Single mode | Single mode |
| wavelength | 850/1310nm | 1310nm | 1310nm | 1310nm |
| Transmission distance | 2km | 25km | 40km | 60km |
| TX send power(min) | -19.0dBm | -15dBm | -9.0dBm | -4.0dBm |
| TX send power(max) | -12.0dBm | -9.0dBm | -5.0dBm | 0dBm |
| Receive sensitivity | < -30dBm | < -30dBm | < -33dBm | <-36dBm |
| Link Budget | 11.0dBm | 15.0dBm | 24.0dBm | 32.0dBm |
Power supply
Input voltage:AC220V, AC100V~AC240V
Input frequency: 47 Hz to 63 Hz
Dimension
2 158mm(L)x95mm(W)x27mm(H)
Environment condition
Operating temperature: 0C~+55 C
Storage temperature: -20 C~+70 C
Relative temperature: 95%
Ordering Information:
| | | | | | |
| --- | --- | --- | --- | --- | --- |
| Part Number | Supported Standard | Output Voltage | Output Current | Output Power | Remark |
| BD-1000M-4TX-POE | IEEE 802.3af | 48V | 0.35A max | 15.4W max | default |
| BD-100M-4TX-POE/A | IEEE 802.3af | 48V | 0.60A max | 30W max | optional |
| BD-100M-4TX-POE/B | Non-standard | 48V | 0.60A max | 30W max | optional |
Ordering information
Send your message to this member