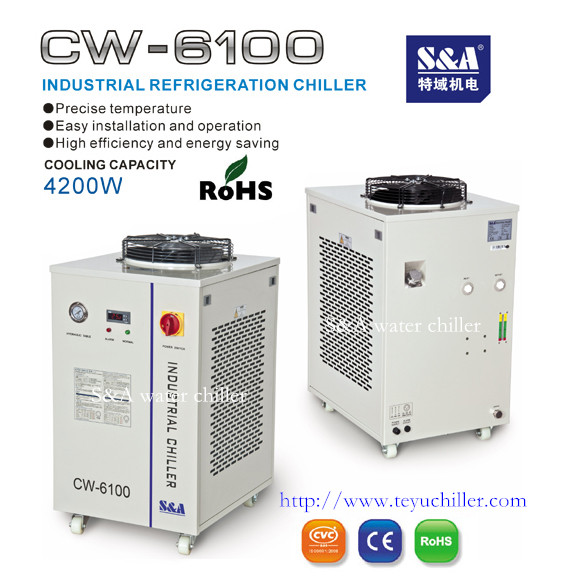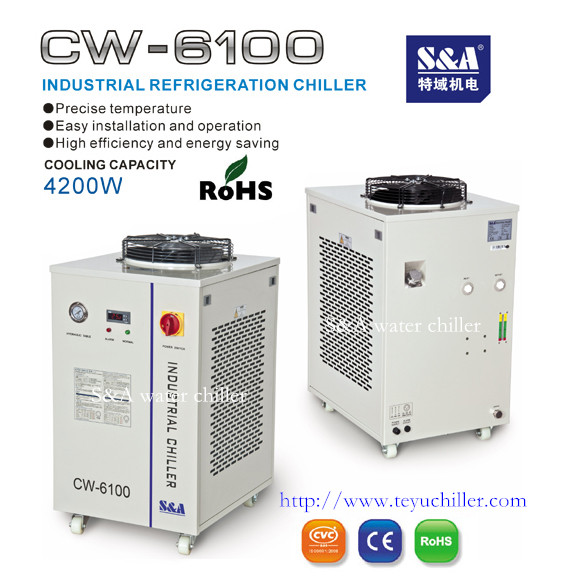 S&A air Cooled Industrial Water Chiller 4.2KW cooling capacity
Corporation/Limited Liability Company
Chinese Supplier

Free Member
Product Details
Company Profile
4.2KW cooling capacity
CW-6100 is developed and produced by S&A company. CW-6100 has 4.2KW cooling capacity, ±0.5℃ stability, and Multiple alarm functions: compressor time-delay protection, compressor overcurrent protection, water flow alarm and over high / low temperature alarm;
parameter:
Voltage:220V; Frequency: 50/60Hz; Refrigerant: R-22 / R-410a
Pump power: 0.05KW/0.1KW/0.37~0.75KW; Tank capacity:15L
Max. lift:12M/25M/28~53M; Max. flow: 13L/min- 70L/min
N.W: 65Kgs; G.W: 77Kgs;
Dimension : 67 X 47 X 89 cm (L X W X H); Packing dimension: 74 X 60 X 109 cm(L X W X H)
CW-6100 specification:
CW-6100AI : applied to cool dual 200W CO2 glass laser tubes, or a single 400W CO2 laser tube;
CW-6100AN: applied to cool a single 150W CO2 RF laser tube, a single 150W laser diode, a single 150W solid-state laser, a single 300W-600W fiber laser or a single 36KW CNC spindle.
About S&A Brand
S&A produces more than 60000 units of by year, we always insist on Quality First in design and production.
"S&A" and "TEYU" have been enjoying high reputation among hundreds of manufacturers which are from both at home and abroad, and export rate reaches above 60%
CONTACT S&A
TE:+86-20-89301885
FAX:+86-20-84309967
SKYPE: teyuchiller
Email:
Website:
Send your message to this member