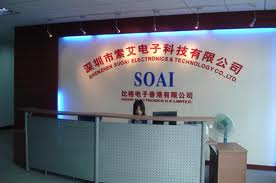 Suoai Electronic Technology Co., Ltd. Shenzhen, founded in 2002, is a private high-tech enterprise, which is specialized in computer peripheral product development, research, mold, injection, painting and electronic assembly. Over the years company has been adhering to independent research and development efforts to the road of innovation for the market demand, and constantly develop new products. From the mechanical mouse to optical mouse and keyboard, now the company has launched wireless mouse, wireless keyboard, laptop keyboard, as well as Bluetooth wireless mouse,Bluetooth wireless keyboards and other products.
Bao'an District, Shenzhen, the company established a well-managed computer peripheral products manufacturing plant, and set up a number of distributors across the country. Successfully established a business system, which is center around Shenzhen and radiating around the whole world.
The company has passed ISO9001 quality management system certification. The procedural requirements of ISO9001 is strictly controlled during product development, research, production of the entire process to ensure stable and reliable product quality. At the same time, in order to ensure that users can correctly use the product, the company enables to provide to the users a full range of support in technical and after-sales service, so that the company can well meet the needs of users. The company will actively introduce advanced technology, and strengthen technological innovation, continuously updated products. Under the scientific management and serious practice, all Soai men would like to further the development, manufacturing better performance product.
The company will uphold the "people-oriented and sustainable management" principle, welcome customers at home and abroad to visit and guide.