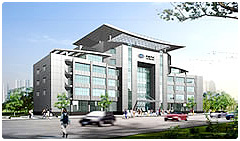 Gonow Auto Co., Ltd. is a China automaker. We are making Pickup truck, SUV (Sport Utility Vehicle), minivan and so on. Gonow had the first factory-built Pickup SUV in 2003 and the first factory-assembled Pickup truck debuted in Mar.2004 as well. Pickup truck is a light vehicle with an open-top rear cargo area. People in North America generally call Pickup truck as Pickup which integrates such features as: rear load, separate driving room, cargo part and so on. SUV (sport utility vehicle) is similar to a wagon, but the chassis is from light truck, with 4WD drive. SUV, light truck and Pickup are from the same light truck family. Meanwhile, we also manufacture Minivan (minibus).
We have invested more than 50 millions USD, hunted automaker experts (some of them are international experts), equipped our vehicles with advanced automobile equipments, owned high technical knowledge and management skills, established research bases with universities. Because we know that intelligent experts, excellent equipments, abundant capitals are the basis of building top quality Pickup, SUV, minivan (minibus).
We possess 60,000 engines, complete workshops of stamping, welding, painting, and assembly with an annual production capacity of 60,000 Pickups, SUVs and 250,000 set minivans (minibus). Moreover, we have established specialized factories to control the quality of engine, chassis, and model.
The Headquarter of Gonow is located in Taizhou City, Zhejiang Province, 3 hours driving from Shanghai. In this city, international harbors, chain of automobile business, cheaper and abundant labors give us advantages to offer you a competitive price. At the same time, we also offer complete after sale service for your repairing, maintaining and changing parts. We know you not only need a Pickup Truck, SUV, minibus, but also need the first-class service which is also our permanent tenet.
The sale amount of Pickup and SUV was more than 10,000 sets in 2005. Meanwhile our SUV, as a Chinese brand, exported161 sets to Europe in July, 2005, which is running on the road in EU. In addition, 2050 sets Pickup trucks were bought by Africa in Jan, 2006... We focus on international markets; China automaker, Gonow cordially welcomes all international clients. We are sure you can get what you want in Pickup, SUV, minibus. Diversified types and different styles of them are waiting for your ordering.
We have started to cooperate with international automakers. Furthermore, DAEWOO Korea joined in Gonow in May, 2005, which is only the beginning of our international cooperation; we will invite more international automakers to cooperate with us.