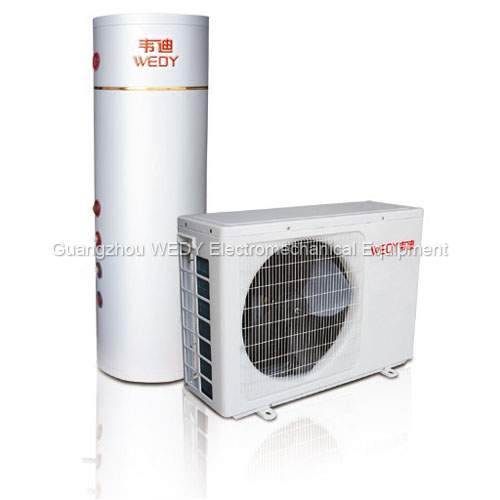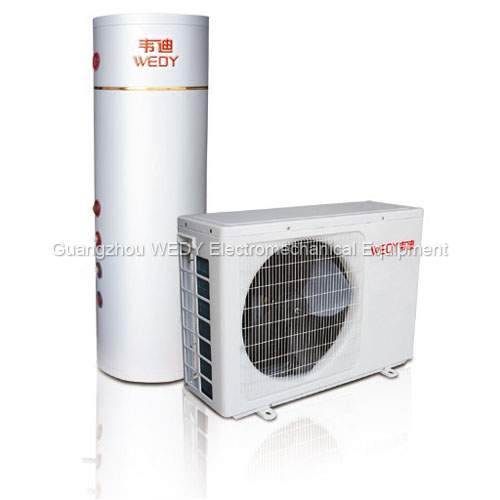 3.86kw Household Heat Pump Water Heater
Manufacture
Chinese Supplier

Free Member
Product Details
Company Profile
Product Description
Our Wedy household separate Heat Pump Water Heater with the below advantages & features:

*.With brazed plate heat exchanger
*.Furthest consider the installation requirement, smaller capacity's heat pumps with water pump.
*.With Pressure protect, Current protect, Microcomputer control, Auto restart functions., etc
*.With high COP, save energy.
*.High temperature water supply 45-60 degrees Centigrade.
*.Wide working tempt.Range, -15~43 centigrade.
*.CE, CCC certification available.
Unit Model

WDJY-010SR

Rated heating capacity (KW)

3.86

Rated produce hot water quantity (L/H)

83

Rated outlet water temperature ( degree )

55

Max outlet water temperature (degrees)

60

parameters

Rated power (KW)

1.01

Rated current (A)

4.59

Maximum Power (KW)

1.62

Maximum current (A)

7.36

Noise dB(A)

≤ 53

Unit wight (Kg)

40

Refrigerant charging quantity (g)

800

dimensions

Length (mm)

970

Width (mm)

260

Height (mm)

535

Electrical source

220V/50Hz

Water tank configure choice

150L , 260L , 300L , 400L , 500L

Heat

Exchanger

Type

shell and tube heat exchanger

Pipe specification

2 × DN25

Built-in shield water pump

<50Kpa

Water pressure drop ( W )

100

Maximum bearing pressure ( Mpa)

≥ 0.8

Fans

Type

Inner rotor fan

Power (W)

25

Unit control system

Microcomputer central processor ( line control )

Protection function

High pressure protection , low pressure protection , overload protection

Applicable environment temperature range (degrees )

-10-40

Send your message to this member
From*

toMs. Miranda
Message*