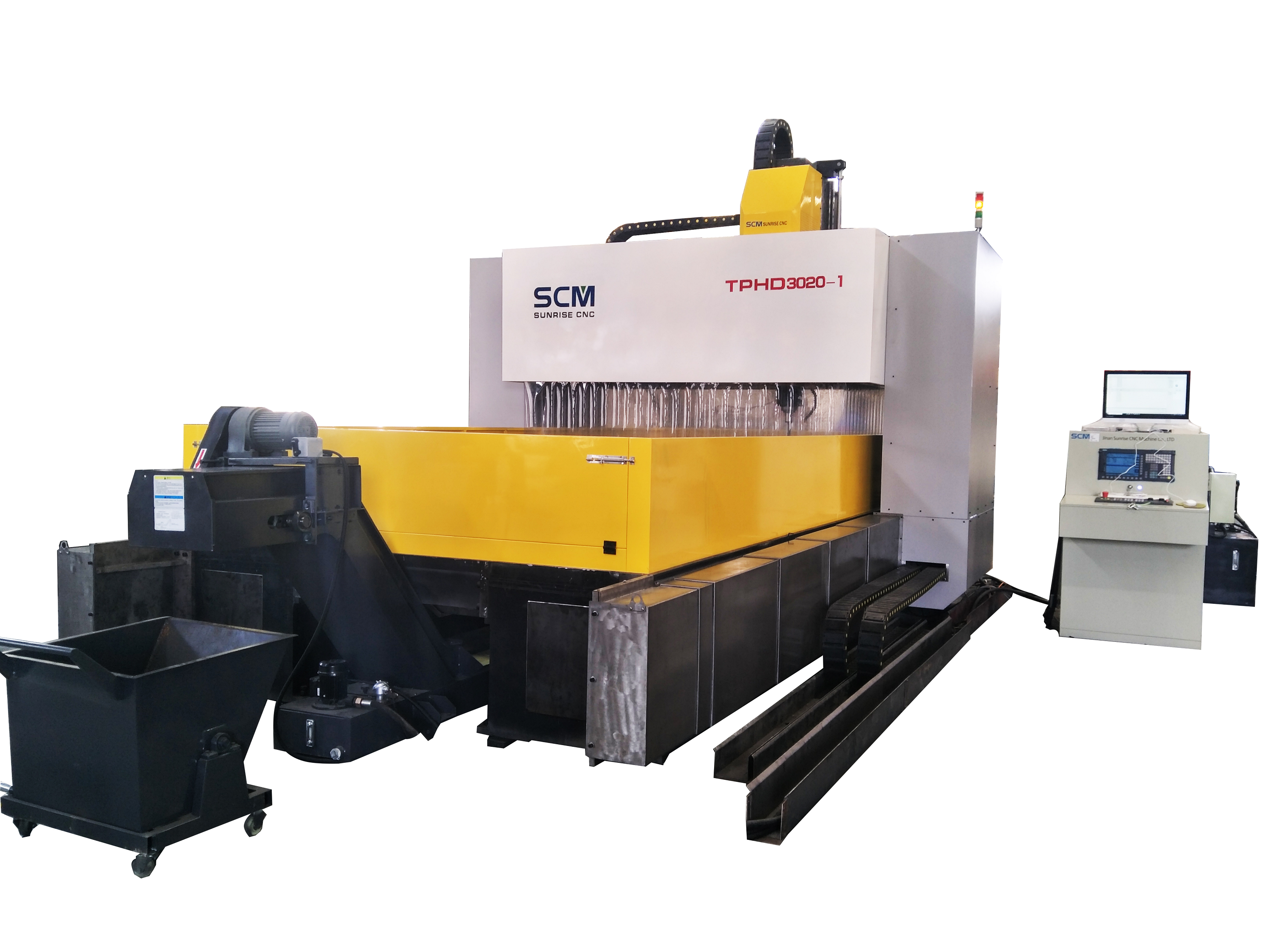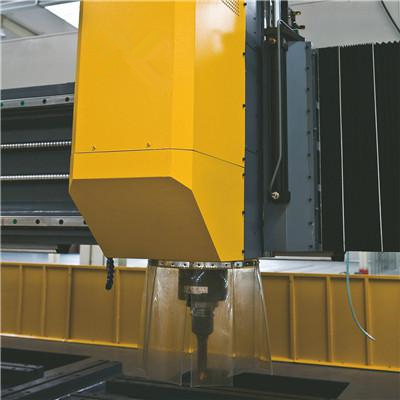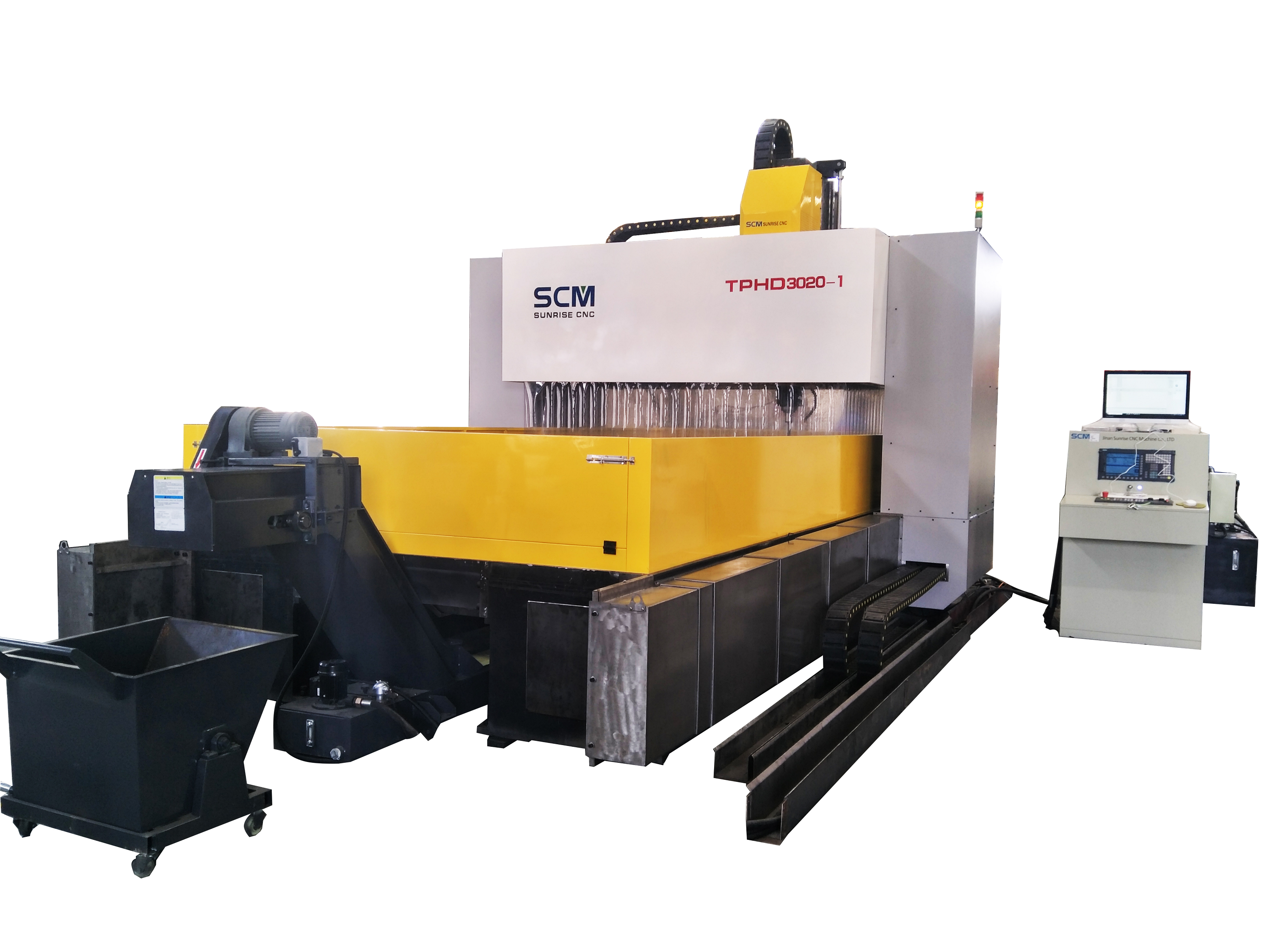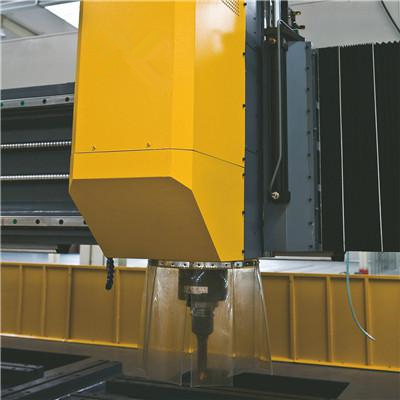 TPHD2525 high speed drilling machine
Manufacturer
Recommended by CCCME
Product Details

Company Profile
TPHD2525 high speed drilling machine
1. Heavy-load linear roller guide pairs are equipped on two sides of the machine bed respectively. The longitudinal movement of the gantry's two sides is driven synchronously via AC servo motor and precise ballscrew pair of big pitch.
2. Two movable slides are equipped on the cross beam of gantry. The sliders are guided by two linear roller guide pairs and driven by AC servo motor and precise ballscrew pair of big pitch respectively.
3. The slides on the cross beam are equipped with vertical CNC feeding ram-type drilling spindle, which adopts special conversion motor with heavy load for spindle. The motor drives the spindle via synchronous belt. The drilling spindle adopts Taiwan precision spindle (innercooling) with disk spring automatic broach mechanism, hydraulic cylinder loosing cutter, very convenient to change shank.
4. The machine is equipped with hydraulic system to finish the hydraulic balance of vertical ram and hydraulic cutter loosing of spindle.
5. It adopts SIEMENS CNC system, equipped with RS232 interface and LCD screen. The automatic programming provided can not only generate processing programs automatically, but also preview hole position before drilling.
6.It is equipped with chain-plate type automatic chip-conveyor and chip collection trolley. The cooling system is equipped with paper filer, high-pressure innercooling pump and low-pressure outer-cooling pump, which are used for inner-cooling or outer-cooling of cutter.
Parameter Name

Item

Parameter Value

Max. size

L X W

2500X2500mm

Max thickness

250mm

Work table

Width of T slot

28/500mm

Vertical slide type drill head

Quantity

1 and with ATC (8 pics tools)

Main spindle taper hole

BT50

Max. drilling diameter

Φ50mm

Main spindle speed

30—3000r/min

Motor power of spindle

22kW

Distance between spindle tip to work table

300-800mm

(X axis)

Gantry longitudinal move

Max. stroke

2500mm

Moving speed of X axis

0-8m/min

Servo motor power of X axis

3kW

(Y axis)

Power head transversal move

Max stroke

2500mm

Moving speed of Y axis

0-8m/min

Servo motor power of Y axis

3kW

(Z axis)

Vertical slider feeding

Stroke of Z axis

500mm

Feeding speed of Z axis

0-5m/min

Servo motor power of Z axis

3kW

Positioning accuracy

X/Y axis

≤0.08mm/ Full length

Repositioning accuracy

X/Y axis

≤0.04mm

Hydraulic system

Hydraulic pump pressure/flow rate

6.5MPa /25L/min

Hydraulic pump motor power

3kW

Pneumatic system

Compressed air pressure

≥0.4MPa

Chip cleaning and cooling

Chip cleaner type

Plate chain type

Chip cleaner no.

1

Chip cleaning speed

1m/min

Chip cleaner motor power

0.75kW

Motor power of inner cooling water pump

3kW

Motor power of Outer cooling water pump

0.75kW

Automatic lubricating system

Lubrication pressure

2MPa

Lubrication point oil injecting amount

0.1mL

Lubrication period

6-10min

Electric system

CNC system

FAGOR8055 or SIEMENS

CNC axis NO.

4

Overall size

LxWxH

Approx. 7000X7000X3600mm

Weight

Approx. 35t